FREE 7-Part
DISC E-Course
Effective Communication
is More than Just
Talk, Talk, Talk...
The quality of your life
- both at work and at home -
is highly dependent on the quality of your relationships!
Improve your relationships
with your coworkers, managers, and family, by better understanding - first of all - your own behavior and the behavior of those around you.
Free basic behavioral/personality-style assessment included!

Sign up for our
7-Part E-Course NOW!
Simply fill in your name and E-mail address in the form below, then click on the "Submit" button to start receiving your E-course*.

* - We hate SPAM and will never share your information with a third party!

ONLY Workplace Spanish
Help your employees become customer-service superstars!
With the Hispanic population becoming the largest minority in the US, knowing basic Spanish is becoming more and more a necessity at work.
And while at first it could seem scarry to learn a new language, the fact is that it is easy to learn a few phrases that will make ayone come accross as a customer service superstar.
Fact is one only needs a few workplace specific phrases to make the customer feel understood and cared for.



In this course participants will:
learn ONLY specific job related phrases
practice each phrase through interactive exercises till learning/anchoring occurs
get a chance to submit to instructor phrases and/or words needed for workplace success
get online access to supporting materials and progress-verifying exercises
learn correct pronunciation of all terms
Course Duration: a minimum of 22-hours at 90-minutes per session (two 50-minutes session, with 10 minutes brake in between, highly recommended)

Instructors:
Augi Martinez provides participants with expossure to a native speaker, as well as ensures that the program is highly accurate and the most effective words and phrases are used. His years of experience as an interpreter and public speaker bring a dynamic mix of expertise, professionality, and fun to the classes he teaches.
E.G. Sebastian - speaks 6 languages (at different levels) and worked as an interpreter in multiple languages. Throughout the years he developed a super-effective method to learning a foreign language quickly and effectively. He teaches participants his methods to learn the necessary phrases in the shortest time possible and with greatest retention of material.

Call today for free information and details on providing a Spanish course to your employees, at (843) 252-9966 or fill out the form below for more info:
Meanwhile take a look at our
Spanish@WorkBlog
to pick up a few key phrases...
(we will keep on adding to it, so keep on checking often, or subscribe to the feed)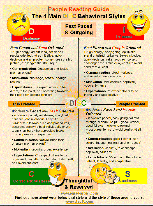 Get a FREE DISC People Reading Guide!
Get an understanding of the 4 main personality/behavioral styles and
improve your communication with everyone around you.
Click Here to learn more....