FREE 7-Part
DISC E-Course
Effective Communication
is More than Just
Talk, Talk, Talk...
The quality of your life
- both at work and at home -
is highly dependent on the quality of your relationships!
Improve your relationships
with your coworkers, managers, and family, by better understanding - first of all - your own behavior and the behavior of those around you.
Free basic behavioral/personality-style assessment included!

Sign up for our
7-Part E-Course NOW!
Simply fill in your name and E-mail address in the form below, then click on the "Submit" button to start receiving your E-course*.

* - We hate SPAM and will never share your information with a third party!


Team Dimensions

Successful team members don't do the same things at the same time - they do the right things at the right time. And while team members work together toward a common goal, individuals still must play their individual roles in the process. As organizations rely more and more on teams to innovate, problem solve, produce, and compete at the speed of change, clearly understanding and capitalizing on individual approaches to group processes is the bottom line on creating high performance teams.

Discover the Right Roles for the Right People

Learn to identify four key roles in team performance:

Creator: Generates original concepts, goes beyond the obvious, and sees the big picture. Hands off tasks to an Advancer.

Advancer: Recognizes new opportunities, develops ways to promote ideas, and moves toward implementation. Hands off tasks to a Refiner.


Refiner: Challenges and analyzes ideas to detect potential problems and may hand plans back to an Advancer or Creator before handing off tasks to an Executor.

Executor: Lays the groundwork for implementation, manages the details, and moves the process to completion.

The profile presnts the "Z Process" to map the flow of assigning roles, completing tasks, and handing off tasks to other team members. Using the four roles in the "Z Process" gets new teams moving forward quickly and gets current teams unstuck.

Capitalize on Individual Strengths for Total Team Performance
identify individual strengths and approaches to teamwork
clarify team members' roles
reinforce the contributions of every team member
reduce project cycle time and increase productivity
* For more information please call toll free 877 379-3793 or fill out the form below: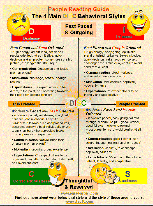 Get a FREE DISC People Reading Guide!
Get an understanding of the 4 main personality/behavioral styles and
improve your communication with everyone around you.
Click Here to learn more....