FREE 7-Part
DISC E-Course
Effective Communication
is More than Just
Talk, Talk, Talk...
The quality of your life
- both at work and at home -
is highly dependent on the quality of your relationships!
Improve your relationships
with your coworkers, managers, and family, by better understanding - first of all - your own behavior and the behavior of those around you.
Free basic behavioral/personality-style assessment included!

Sign up for our
7-Part E-Course NOW!
Simply fill in your name and E-mail address in the form below, then click on the "Submit" button to start receiving your E-course*.

* - We hate SPAM and will never share your information with a third party!


Coping & Stress Profile® Facilitator's Kit
Reg. Price: $450.00
Sale Price: $395.00
Save: $55.00



Explore Coping and Stress in Four Life Areas
The Coping & Stress Profile® is a unique, self-directed learning instrument that provides people with valuable feedback on stress and coping in four interconnected areas of life: Personal, Work, Couple, and Family. The profile uses an engaging process of personal learning that:

provides critical insight into how stress in one area of life impacts other areas
examines how coping resources in one area can be used to decrease stress in another
shows the relationship between stress, coping resources, and overall satisfaction
The Facilitator's Kit includes everything you need to conduct a full- or half day session on the Coping & Stress Profile. You'll get research and technical background, a fully-scripted seminar, handouts, and a PowerPoint presentation, making it easy to deliver a comprehensive training experience right out of the box.



Coping & Stress Profile® Facilitator's Kit
Reg. Price: $450.00
Sale Price: $395.00
Save: $55.00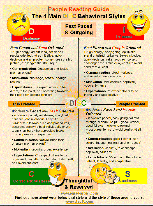 Get a FREE DISC People Reading Guide!
Get an understanding of the 4 main personality/behavioral styles and
improve your communication with everyone around you.
Click Here to learn more....