FREE 7-Part
DISC E-Course
Effective Communication
is More than Just
Talk, Talk, Talk...
The quality of your life
- both at work and at home -
is highly dependent on the quality of your relationships!
Improve your relationships
with your coworkers, managers, and family, by better understanding - first of all - your own behavior and the behavior of those around you.
Free basic behavioral/personality-style assessment included!

Sign up for our
7-Part E-Course NOW!
Simply fill in your name and E-mail address in the form below, then click on the "Submit" button to start receiving your E-course*.

* - We hate SPAM and will never share your information with a third party!

Price-List
Inscape Publishing *
Profiles, Action Planners, and Facilitator Kits
Order online through our secure server (24/7)
or call (843) 252-9966 or Toll Free 877-379-3793
Monday - Friday 9:00 a.m. - 7:00 p.m.
Saturday 10:00 a.m. - 2:00 p.m.
* - For the past more than 30 years, Inscape Publishing, Inc (formerly known as Carlson Learning) has been a leader in developing valid and reliable assessments. Read More...
Click on the tabs on the top of the product-box below to view each product family or click a product family on the navigation bar on the left side of your screen !
DiSC® PPSS - Role Behavior Analysis?

DiSC® PPSS - Comparison of Multiple RBAs Report

DiSC® PPSS - General Characteristics Report

DiSC® PPSS - Comparison of Multiple PPS/RBAs Report

DiSC® PPSS - Comparison of Single PPS/RBA Report

DiSC Action Planner Sample Pack

DiSC Customer Service Action Planner

DiSC Managing Performance Action Planner

DiSC Management Action Planner

DiSC Sales Action Planner

DiSC Talk! Action Planner

DiSC® Talk! Key
"DiSC is a registered trademark of Inscape Publishing, Inc."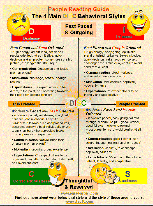 Get a FREE DISC People Reading Guide!
Get an understanding of the 4 main personality/behavioral styles and
improve your communication with everyone around you.
Click Here to learn more....
Find Out Your DiSC Behavioral Style!
Do you want
to know your
DISC
Behavioal Style?

Do you want to
have a better
understanding
of your strengths,
weaknesses,
communication
style, and other
behavioral tendencies?

Do you want to
find out how you
can become more
productive and a
more effective
communicator?

Complete the
DiSC 2.0
assessment!
For details or to order,
Click Here!