Coping with Stress
A proactive approach to stress and energy management designed to
maximize achievement of professional and personal goals
Often success comes at a high price... Many think that stress is a normal component of being successful or pursuing success. Fact is, however, that there are ways to reduce or even eliminate this crippling, disease causing factor.
Duration: 1-Day Seminar (half-day version also available)
Benefits:
Recognize and break old stress patterns

Achieve peak performance

Feel more relaxed

Improve your productivity
Seminar content:
Identify 12 categories of stressors

Learn ways to reduce or eliminate stress

"Five-steps to success without stress" self-coaching tool

How to energize and "de-stress" at work

Develop a 30 day plan to attaining stress-free living
Handouts:
workbook that includes all points covered, assessments, tools, and resources related to the topic

other handouts as appropriate
(This program has been approved in California for continuing education credits)
* Inscape's Coping with Stress Profile/Assessment is highly recommended with this seminar
Click HERE to Request More Info!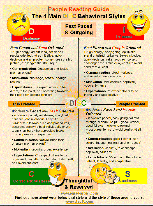 Get a FREE DISC People Reading Guide!
Get an understanding of the 4 main personality/behavioral styles and
improve your communication with everyone around you.
Click Here to learn more....