FREE 7-Part
DISC E-Course
Effective Communication
is More than Just
Talk, Talk, Talk...
The quality of your life
- both at work and at home -
is highly dependent on the quality of your relationships!
Improve your relationships
with your coworkers, managers, and family, by better understanding - first of all - your own behavior and the behavior of those around you.
Free basic behavioral/personality-style assessment included!

Sign up for our
7-Part E-Course NOW!
Simply fill in your name and E-mail address in the form below, then click on the "Submit" button to start receiving your E-course*.

* - We hate SPAM and will never share your information with a third party!

idXready: DiSC®-Powered Selling
We've probably all had selling experiences where we just didn't click with the customer. More often than not, this apparent lack of chemistry has caused us to lose the sale. But what if we could always identify and adapt to the differences in customers, reduce the likelihood of miscommunication and lost sales, and develop positive relationships with all types of customers? The goal of this program is to help participants understand their own selling tendencies and their customers' needs so that they can adapt when needed for better results.

DiSC Powered Selling
Reg Price: $995.00
Sale Price: $955.00

+ FREE SHIPPING

idXready: DiSC Powered Selling
PowerPoint & Video Sample
Click on the picture below to view samples of
the Leader's Guide, Participant's Manual, PowerPoint & Video
OPENS IN NEW WINDOW

LEARNING OBJECTIVES
In idXready?: DiSC®-Powered Selling, participants will:
Discover four basic approaches to selling and identify their most natural approach to selling
Identify which approach is most appropriate for each style and discover the similarities and differences among selling styles
Learn how preferences drive buying behaviors and discover effective techniques for selling to people with differing styles
Understand that customers have diverse needs and learn to adapt communication to build the trust needed to gain commitment for the sale
Develop selling strategies and action plans for adapting to different customers' styles
PROGRAM LENGTH
Approximately 3 - 4 hours. Breaks are not included in this time.
LEARNING MODEL USED
DiSC
E-BROCHURES
Get personalized idXready: DiSC®-Powered Selling e-brochure
idXready: DiSC Power Selling
Reg Price: $995.00


Sale Price: $955.00 + FREE SHIPPING


SYSTEM REQUIREMENTS
For Windows
Microsoft Office 2003 with Power Point 2003
Microsoft Windows 2000 (Service Pack 3 +) or Windows XP (Recommended)
Adobe Acrobat Reader 7 or higher (free at www.adobe.com)
Adobe Flash Player 9 or higher (free at www.adobe.com)
USB Ports (USB 2 recommended)
512 MB of memory (Minimum)
For Macs
Mac OS 9 or higher
PowerPoint 2004
Adobe Acrobat Reader 7 or higher (free at www.adobe.com)
Adobe Flash Player 9 or higher (free at http://www.adobe.com/)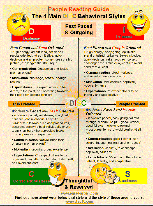 Get a FREE DISC People Reading Guide!
Get an understanding of the 4 main personality/behavioral styles and
improve your communication with everyone around you.
Click Here to learn more....