FREE 7-Part
DISC E-Course
Effective Communication
is More than Just
Talk, Talk, Talk...
The quality of your life
- both at work and at home -
is highly dependent on the quality of your relationships!
Improve your relationships
with your coworkers, managers, and family, by better understanding - first of all - your own behavior and the behavior of those around you.
Free basic behavioral/personality-style assessment included!

Sign up for our
7-Part E-Course NOW!
Simply fill in your name and E-mail address in the form below, then click on the "Submit" button to start receiving your E-course*.

* - We hate SPAM and will never share your information with a third party!

| | |
| --- | --- |
| | The DiSC® Team View report provides an at-a-glance comparison of learner profiles. The report gathers data from participants who have responded to DiSC Classic 1.0, DiSC Classic 2.0, or DiSC PPSS on EPIC. It includes the individual's name, DiSC Graph III display, and Classical Pattern name. The DiSC Team View report is available at no charge, so you can compare learner profiles in as many combinations as you'd like. |
Go Back to DiSC Classic Go Back to Assessments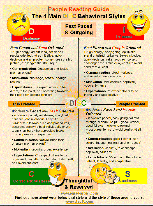 Get a FREE DISC People Reading Guide!
Get an understanding of the 4 main personality/behavioral styles and
improve your communication with everyone around you.
Click Here to learn more....